Fat Freezing Risks Exposed: An In-Depth Look at Adverse Effects in Non-Invasive Body Contouring Procedures
The popularity of fat freezing (also known as cryolipolysis or coolsculpting) and other non-invasive body contouring procedures have surged in recent years, fuelled by social media hype and an ever-growing arsenal of aesthetic devices on the market. Demand for these minimally invasive treatments skyrocketed fivefold between 2011 and 2019 in the United States alone. But as more people flock to try these treatments, it's crucial to understand the potential risks and complications.
A recent study published in Lasers and Surgery in Medicine delved into the FDA's database of medical device reports to uncover adverse effects associated with non-invasive body contouring procedures. In this blog post, we'll explore the findings of this eye-opening study, which supports the decision we made as a company to stop our distribution of the CryoSlim, our first fat freezing device. We also discuss what you, as an aesthetic provider, should know before deciding to incorporate fat freezing treatments into your practice.
A Closer Look at the Study
As a treatment provider it's important to be aware that pre-market evaluations of medical devices may not identify potential long-term or delayed adverse events, making post-market surveillance necessary.
In 1991, the FDA established a database to gather information on device-related fatalities, injuries, and serious malfunctions reported by operators or manufacturers.
Researchers in the study sifted through 723 medical device reports from 2011 to 2021, identifying 660 related to non-invasive body contouring, 55 for cellulite treatment, and eight for muscle stimulation devices. (Interestingly, 73% of the reports occurred in 2021, coinciding with the relaxation of stay-at-home orders and a boom in the med spa industry.)
Paradoxical Adipose Hyperplasia (PAH)
The most common adverse event identified in the realm of non-invasive body contouring is paradoxical adipose hyperplasia (PAH), which occurs with fat freezing.
PAH is a phenomenon involving a rebound increase in the number of fat cells in the treated area, essentially producing the opposite effect of what patients seek.
What appears is frequently described as a firm, enlarged, and mildly tender bulge that appears several months post-treatment. Experts are not sure why this occurs. It could be a compensatory injury response to the cold temperature, causing a group of fat stem cells to differentiate and result in a rebound increase in fat cell numbers.
The first report of paradoxical adipose hyperplasia (PAH) emerged in 2014, even though CoolSculpting has been available since 2010. Since 2014, there has been an increasing number of PAH reports.
PAH typically appears 2 to 3 months after receiving fat freezing, so it's not immediately visible. In some cases, it can occur around 6-9 months post-treatment. It's crucial for patients to follow up with their provider to monitor this rare but potentially serious side effect.
This new study suggests that PAH after cryolipolysis may not be as uncommon as previously thought. Estimates of PAH frequency range from 0.5% to 1% of all people, but it could be more prevalent and underreported. The risk factors for developing paradoxical adipose hyperplasia remain to be identified.
Treatment for PAH usually involves liposuction or, in rare cases, an abdominoplasty (tummy tuck).
The condition recently came under the spotlight when supermodel Linda Evangelista shared that she had been "brutally disfigured" and "permanently deformed" from PAH after undergoing a CoolSculpting procedure in 2015, adding that it "destroyed" her livelihood and sent her into "deep depression" and "self-loathing".
Limitations of the Study
While this study sheds light on the potential risks of non-invasive body contouring procedures, it's important to note its limitations. The researchers relied on the quality of information in the medical device reports, and the potential for underreporting means the actual frequency of adverse events may be higher. Additionally, selection bias could impact the findings.
Radio Frequency Body Contouring
As a company focused on delivering top-of-the-line aesthetic technology with the highest safety profile to protect both patients and providers, we made the decision years ago to discontinue supplying fat freezing devices to the Australian market. While there were no cases of paradoxical adipose hyperplasia reported with our own Cryoslim system, the significant number of studies indicating high levels of risk was a large contributing factor to our decision to discontinue distribution of this device. Instead, we reviewed alternate safer treatment options and now recommend radiofrequency as the non-invasive body contouring and body skin tightening treatment of choice.
In contrast to cryolipolysis which uses cold to target fat cells, RF makes use of heat to eliminate fat. By raising the skin's temperature over 40°C, the therapy is able to shrink fat cells and tighten skin. The RF heat works its magic on the deep-lying connective tissue, enabling it to compress fat cells more effectively while also causing them to contract.
As an added bonus, the treatment stimulates the body's natural lymphatic response, flushing out toxins and promoting new collagen and elastin production, resulting in further toning and tightening of the skin.
V-FORM by Viora is the leading solution for RF body sculpting, fat reduction, and cellulite elimination, and boasts a remarkable 100% success rate in clinical trials. Treatments are pain-free with long lasting results, and achievable within the span of a lunch break.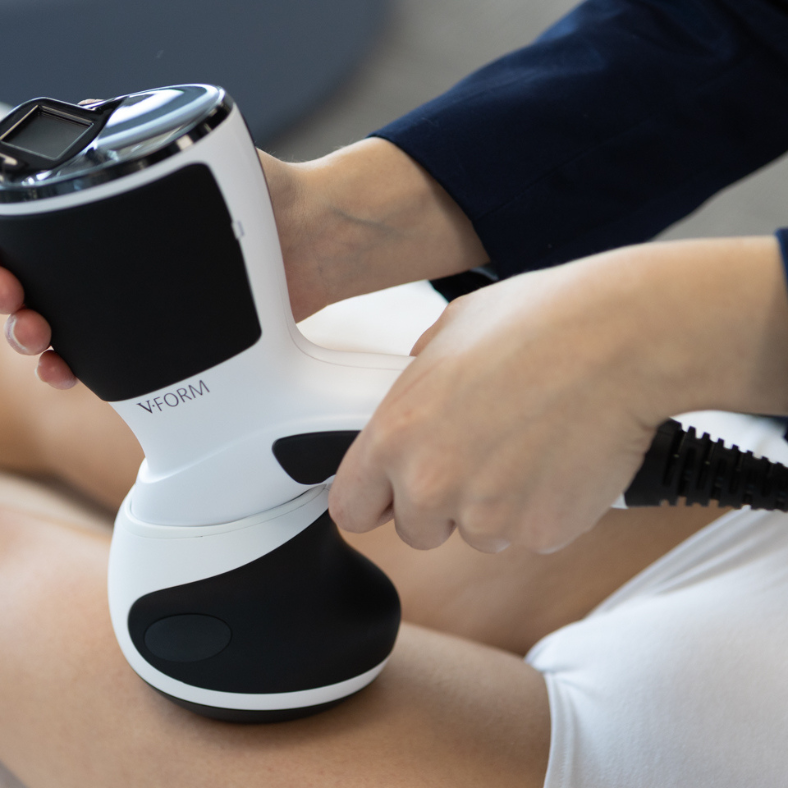 The V-FORM effectively eradicates accumulated fat deposits beneath the skin utilising state-of-the-art Multi-CORE™ technology, while the potent integrated vacuum allows for deeper tissue access, enhanced blood flow, and encourages lymphatic drainage. For procedures targeting the midsection or abdominal area, the practitioner gets to decide the appropriate amount of radio-frequency energy to apply based on the amount of excess fat and skin that exists in the specific region.
RF treatments offer immediate toning results, with continued improvements over the following days and weeks. It is the better option for those looking for a more uniform fat reduction, as opposed to CoolSculpting, which is more suited for targeting specific pockets of fat. In addition, it is an excellent choice for treating 'orange peel' skin.
Don't just take our word for it, check out the incredible results achieved with Viora's revolutionary proprietary technology:
While CoolSculpting typically requires 1 or 2 treatments, RF body contouring usually requires several sessions, with the final amount depending on the individual's goals and condition. However, given the lower risk of adverse effects and complications, we believe that the additional sessions are a worthwhile trade-off. Introducing a subscription treatment plan service at your practice would be a great way to increase patient compliance with recommended treatment intervals. Studies show that a subscription-based billing strategy can significantly increase income per patient and provide a boost to your practice's annual revenue.
Conclusion
While non-invasive body contouring procedures are generally considered safe, they aren't risk-free. As a treatment provider, it is important to be aware of potential adverse events and carefully weigh the risks of each treatment technology before deciding to offer it in your clinic.
There is no such thing as a completely risk-free procedure. Staying well-informed about the latest research and potential safety concerns and side effects is vital to ensuring patient safety and satisfaction. Being vigilant will also help you avoid professional malpractice claims within your practice.
Speak to one of our device experts to learn more and elevate and grow your clinical offerings and ROI today.