Introduction to IPL Skin Rejuvenation & IPL Hair Removal
Intense pulsed light (IPL) technology, a cornerstone of modern aesthetic practices, is a safe and well-established treatment option for both IPL skin rejuvenation and permanent hair reduction. Advances in technology and our understanding of IPL technology have established it as one of the best modalities for skin treatments Today, IPL now rivals traditional laser hair removal methods, offering multifunctional benefits that extend beyond mere hair reduction.  
When it comes to selecting a device for your beauty or aesthetic business, often the choice comes down to several key factors; including excellent client results, ease of use, and return on investment. Significant capital outlay can place quite a strain on any business, new or existing, so savvy business owners will generally be on the lookout for affordability meets function. For many, this comes into play when deciding between an IPL machine and a laser device. IPL technology has progressed substantially over the past several years alone, surpassing some of its previous limitations on efficacy and side effects. This coupled with its more favourable pricing and multi-functionality has led to a boom in preference over single-wavelength lasers in many clinical settings. Market leading IPLs are now more powerful, more predictable, and more reliable than ever when it comes to skin rejuvenation (3).
"The laser hair removal sector has completely changed in the last decade, and staying at the forefront of these changes is crucial for success," says Trevor Neale, Director of The Aesthetic Bureau. "The industry is charging much lower rates than ever before, but despite this, clients are expecting more than ever. They want to be in and out of the clinic quickly and return to their normal activities right away, and they want faster results with less downtime. Clinics facilitating this offer a competitive edge."
"This means hair removal devices have had to work hard to keep up. They need to be fast, low-risk, be able to compete price wise, and be capable of treating larger areas or multiple indications quicker and easier. Many laser devices have not been upgraded for decades, and still carry enormous investment and ongoing costs, without providing ways in which clinics can increase their return on investment and stay competitive. Our DPL Protégé and Dual Light IPLs deliver a competitive advantage by way of more treatable skin types and hair colours, in addition to speed and safety profile. The versatile usability and affordability really are the biggest drawcards for modern IPL machines, offering clinic and salon owners the best possible ROI."
Marketing Your IPL Machine To Maximise Profits For Aesthetic Practices
Skin rejuvenation and laser hair removal are two of the most highly sought-after aesthetic treatments available on our current market, with rapid growth projected over the next several years. In fact, the estimated value of skin treatments in Australia for 2021 was US$468.2 million, which is expected to climb to $600 million by 2027 (1). The Australian hair removal industry was valued at US$ 806.5 million in 2021, and is expected to reach a momentous US$ 1,131.8 million by 2027 (2). So there is no doubt that awareness and demand for these types of cosmetic treatments will continue to climb amongst your clientele in the near future. Being prepared for this will give your business the best possible chance at retaining clients and boosting revenue.
At the forefront of these growing sectors are energy-based devices, namely IPL and laser. Device innovations have allowed for clinics to not only expand their service portfolio, but improve treatment outcomes, increase patient comfort, improve speed and efficiency, and most importantly, provide better client/patient safety. This is particularly true for IPL. The Aesthetic Bureau has always been profoundly committed to research and development, leveraging engineering expertise to give rise to revolutionary technologies like our Dual Light and DPL Protégé Series of IPLs.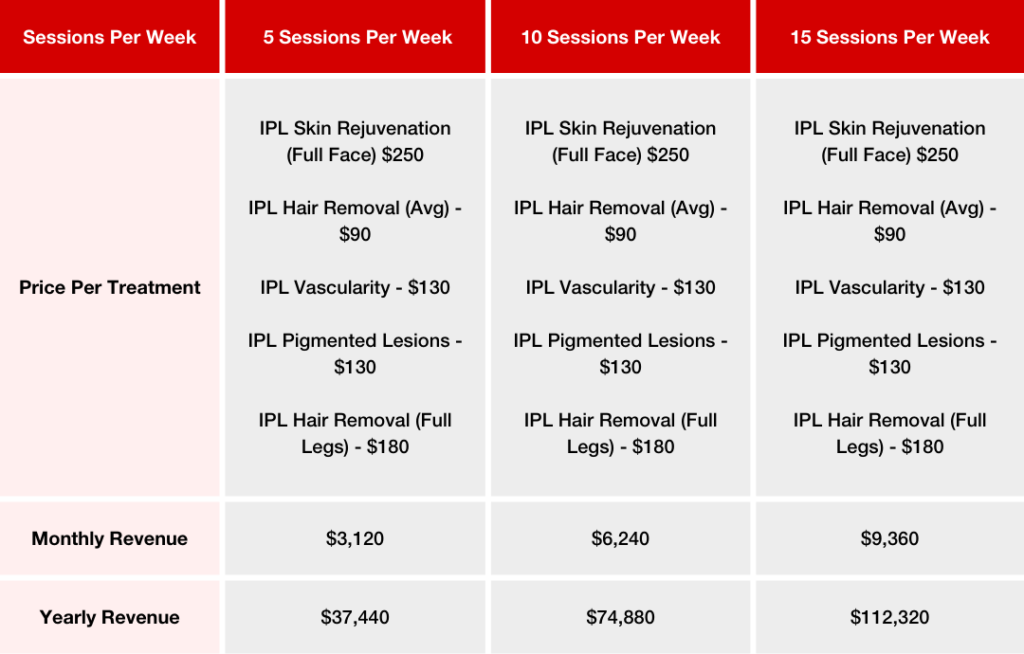 IPL Photorejuvenation / IPL Photofacial
IPL is also a proven, safe and reliable method for the treatment of photodamaged skin, pigmentation, vascularity, and reduction of fine lines and wrinkles. Since the treatment is non-ablative (i.e., the epidermis is not disrupted), there is minimal downtime.
It can correct a wide range of skin concerns including:
Acne and acne scarring

Vascularity

Loss of skin elasticity

Pigmentation

Uneven skin texture

Freckles

Fine lines

Age spots
With more and more patients turning to non-invasive treatments for common concerns like acne scars, hyperpigmentation and age spots, IPL therapy has become a huge hit in the beauty industry for skin rejuvenation. High quality medical-grade professional IPL therapy machines offer quick, safe, and comfortable treatments with little to no downtime.
IPL works by delivering light into the skin which is converted to heat as it reaches particular target cells (or chromophores). The chromophore could be melanin in the skin, pigment in the hair, redness in blood vessels, or acne-causing bacteria. The goal of IPL therapy is to selectively destroy this target tissue without impacting the surrounding structure (a process known as selective photothermolysis). Once the targeted imperfection is destroyed, it is eventually eliminated from the skin. This initiates the body's natural healing response, producing collagen and elastin synthesis, and finally resulting in an overall improvement in the appearance and quality of the skin (Clement et al. 2005).
How Adding an IPL Machine Will Improve Your Business
Offering IPL treatments can be extremely profitable for your business. Given the versatility and proven efficacy of IPL machines, it has become an inevitable choice in every salon owner's business strategy. 
The following are reasons that make buying an IPL machine a standout investment choice:
IPL treatments require patients to undergo multiple sessions with very minimal downtime. This means a patient can undergo a course of 4 to 8 IPL sessions alongside other ancillary treatment offerings that your salon or clinic provides.

You can very easily upsell different treatment options to existing patients with diverse treatment needs. Its multifaceted nature means it has the potential to generate positive ROI very rapidly. One IPL machine is capable of delivering a wide variety of treatments. Compared to laser hair removal machines, which only produce a singular wavelength and are limited in the number of treatments they perform, IPL is multifunctional and versatile. 

You can overcome any space constraints in your clinic since one IPL workstation is multifunctional and obviates the need for multiple devices.  

IPL technology can treat multiple skin issues for a large variety of patient skin types.
Aesthetic Bureau's aesthetic device rental program makes IPL device ownership an even more obvious/appealing choice. 
Renting can help you minimise impact to cashflow. You will have less concern about overextending your working capital since there's less expense initially when renting a device. 
The cost of your investment can be deducted as an operating expense. 
You have the option to purchase the equipment when your lease period expires. Alternatively, you are free to update to a newer equipment should the need arise. 
Should your equipment break down in an unlikely scenario, the onus is on us to make the repairs. 
Incorporating Intense Pulsed Light in your practice
With an increased demand in non-invasive procedures for addressing skin concerns and unwanted hair, there has been an influx of IPL technology on the market that is available to anyone. Every second beauty salon seems to be offering IPL therapy. However, not all IPL machines for sale are created equal. While IPL therapy can deliver fantastic results, many unreliable and potentially dangerous IPL machines on the market have given IPL a bad reputation. 
Due to the widespread nature of light technology on the market and lack of enforced regulation in Australia, there have been numerous reports and incidents of IPL devices being used incorrectly and causing permanent damage. Common adverse reactions include hypo- and hyperpigmentation, blistering, scarring, as well as lack of clinical results due to incorrect parameters or poor technique used by the operator. This usually occurs due to inefficiency of the IPL machine or inadequacy of IPL operator training, or both. (add points on how we ensure safety and efficacy of our training and devices)
Marketing Your IPL Device
Intense Pulsed Light technology has advanced incredibly since their introduction to aesthetics in the 1990s, and are now being used safely and effectively for a multitude of therapeutic and aesthetic purposes. Advancements such as Dual Pulsed Light, faster repetition rates, larger spot sizes, and in-motion technologies allow physicians to not only treat more indications, but to do so at a fraction of the cost compared with laser (particularly laser hair removal), in shorter time frames, and with greater comfort. All of these factors will act as primary motivators for prospective patients seeking quality IPL skin rejuv and hair removal treatments, so be sure to highlight these as part of your marketing key messaging.
Many business owners are drawn to IPL for its multifunctional nature, having the ability to treat a wide variety of skin conditions simultaneously including pigmentation, vascularity, texture, clarity, and laxity, to name a few. Your clients are likely to be attracted to IPL for the same reasons. Unlike lasers, which use a single wavelength of light to target one specific chromophore, IPL utilises a spectrum of multiple wavelengths that; when used with interchangeable filters, can tackle multiple indications at once. When operated by a skilled IPL technician, these parameters can be calibrated for specific skin needs and ultimately result in a more tailored and efficacious experience for the client. Not only this, having the ability to switch between treatment types, zones, and indications for a client at the push of a button, without having to swap devices (for example, switching from a full leg hair removal to a full face rejuvenation) can add up to hours of your team's time saved. This is also extremely appealing to your clients, as opposed to them needing to visit multiple clinics for their various treatments. Ensure any marketing surrounding your IPL offerings covers the extensive range of needs you can address in-clinic, including: 
How Do I Choose the Right IPL Machine?
Before acquiring any aesthetic device, it is important to evaluate from a number of perspectives whether the investment is the right choice.
Additionally, it is important to validate that a strong demand for the treatment exists in the market you are serving. ROI is very important, since a practice must remain profitable in order to continue serving its clients. Generally speaking however, a value-driven multifunctional IPL system is a safe bet for any astute business operator since it can help see the highest return on investment.
Our flagship Dual Light IPL is a dual mode system with added features for ease of use and a high safety profile. It delivers optimised treatment results with less downtime for your clients, increasing profitability.
The DPL Protégé on the other hand is our versatile light-based IPL system delivering multiple therapies in one compact unit. Its design and small footprint offer maximum flexibility and upgradeability for today's fast-paced aesthetic practices.
Our V-IPL is part of the V-Series multiplatform device by Sinclair and addresses multiple concerns and Fitzpatrick skin types safely and comfortably.
Both machines combine superior dual handpieces, even energy distribution, notch and dual filtering, with advanced 3-part cooling and ease of use with inbuilt database and error functionality.
Australian manufactured and TGA recognised for reliability, safety, and efficacy.
Skin Rejuvenation: Tone, texture, clarity, & wrinkle reduction
IPL is extremely popular for generalised skin health improvement thanks to its ability to target multiple chromophores at once. IPL energy results in heating in the tissue which stimulates collagen and elastin production, resulting in smoother, plumper texture, and reduced wrinkles and pore visibility. In vitro studies demonstrate that IPL irradiation of tissue can result in fibroblast activity increases of more than 100%.
This selective thermolysis effect can simultaneously collapse minor superficial vascular lesions such as spider veins, burst capillaries, or diffuse redness. Your clients or patients seeking skin rejuvenation for a combination of concerns, including vascular lesions and signs of ageing such as wrinkles and loss of volume, will be thrilled to know there are solutions to address all of these in the one treatment, particularly if they are unsure of which treatment is for them.
IPL can very effectively reduce melanosomes dispersed within the basal keratinocytes, including superficial pigmented lesions ephelides (freckles), senile and solar lentigines (age or liver spots). When used in combination with quality skincare containing tyrosinase inhibitors, IPL offers excellent results for the initial removal and ongoing maintenance of both generalised pigmentations and focal lesions. Once treated, melanosomes migrate to the skin's surface, resulting in a darkening effect before sloughing off within the days following. Having the freedom to select pulse durations and select various wavelength filters allows for maximum versatility in the treatment of a wider range of colours for both pigmented and vascular lesions.
Less commonly known, IPL can be used for the reduction of active acne as well as acne scarring. A course of IPL treatments can demonstrate excellent reduction of inflammation and in the number of active sebaceous glands, and improve dermal healing functionalities. Depending on scar type, depth and age, collagenesis can often reduce the appearance of scarring through an improvement of volume deficit.
In line with client demand for greater comfort and speed of appointment time, Super Hair Removal or Swift Hair Removal (SHR) involves gradual heating of the follicles by rapidly gliding the handpiece backwards and forwards over the treatment zone. This method is virtually pain-free and exceptionally more comfortable than the traditional stamping method.
Structuring Your IPL Treatment Menu
When setting out your pricing for IPL photo-rejuvenation and IPL hair removal treatments, we recommend keeping your return on investment in mind. Project a minimum treatment requirement per week (based on current and prospective new clients) that will have your device paid off in your preferred time period. We often encourage Memberships or Subscription-based models where possible, packaging IPLs in courses of 6 spaces 4-6 weeks apart.
We also recommend a thorough skin consult including imaging technology prior to rejuvenation treatments, as this creates accountability, your clients can see their results in black and white, and you can also create your own case studies to be used in future marketing campaigns. Progress reports are suggested to be conducted at 3 month intervals and on completion of any courses. Maintenance sessions are then recommended every 12-18 months.
Lastly, we recommend avoiding the temptation of dropping your prices to compete with discounted chain rates. Never under-value the quality of service your clinic provides, reflecting your team's knowledge and skill, their level of training, and in turn, the high standard of safety you provide.
Specialists in Light Therapy Australia
The Aesthetic Bureau is ISO 13485:2016 accredited for the design and manufacture of medical devices in Australia. Our medical LED and IPL machines are included in the Australian Therapeautic Goods Administration. 
We are the only TGA included Australian manufacturer for IPL machines – as opposed to other suppliers who are sponsors for overseas companies.
These certifications essentially govern all of The Aesthetic Bureau's processes and ensure that we are compliant with medical regulations, and demonstrates the quality and safety of our devices.
To learn out more about medical grade professional IPL machines for sale in Australia, call us on 1300 858 711 or click on the button below.