Introducing IPL Hair Removal
Designed to have the highest safety profile and efficacy
Intense pulsed light (IPL) hair removal is a safe and well-established treatment option for permanent hair reduction. Advances in technology and our understanding of hair removal have established it as one of the best modalities for treatment of unwanted hair. Recent technological advancements in IPL technology have made it almost equal to laser hair removal machines in terms of efficacy for hair reduction. Beyond that, IPL machines offer numerous other benefits to the business operator.
IPL Photorejuvenation / IPL Photofacial
IPL is also a proven, safe and reliable method for the treatment of photodamaged skin, pigmentation, vascularity, and reduction of fine lines and wrinkles. Since the treatment is non-ablative (i.e., the epidermis is not disrupted), there is minimal downtime.
It can correct a wide range of skin concerns including:
Acne and acne scarring

Vascularity

Loss of skin elasticity

Pigmentation

Uneven skin texture

Freckles

Fine lines

Age spots
With more and more patients turning to non-invasive treatments for common concerns like acne scars, hyperpigmentation and age spots, IPL therapy has become a huge hit in the beauty industry for skin rejuvenation. High quality medical-grade professional IPL therapy machines offer quick, safe, and comfortable treatments with little to no downtime.
IPL works by delivering light into the skin which is converted to heat as it reaches particular target cells (or chromophores). The chromophore could be melanin in the skin, pigment in the hair, redness in blood vessels, or acne-causing bacteria. The goal of IPL therapy is to selectively destroy this target tissue without impacting the surrounding structure (a process known as selective photothermolysis). Once the targeted imperfection is destroyed, it is eventually eliminated from the skin. This initiates the body's natural healing response, producing collagen and elastin synthesis, and finally resulting in an overall improvement in the appearance and quality of the skin (Clement et al. 2005).
How Adding an IPL Machine Will Improve Your Business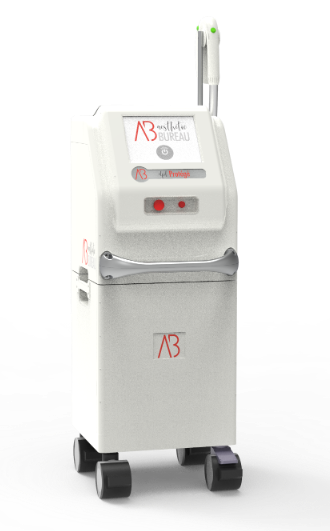 Offering IPL treatments can be extremely profitable for your business. Given the versatility and proven efficacy of IPL machines, it has become an inevitable choice in every salon owner's business strategy. 
The following are reasons that make buying an IPL machine a standout investment choice:
IPL treatments require patients to undergo multiple sessions with very minimal downtime. This means a patient can undergo a course of 4 to 8 IPL sessions alongside other ancillary treatment offerings that your salon or clinic provides.

You can very easily upsell different treatment options to existing patients with diverse treatment needs. Its multifaceted nature means it has the potential to generate positive ROI very rapidly. One IPL machine is capable of delivering a wide variety of treatments. Compared to laser hair removal machines, which only produce a singular wavelength and are limited in the number of treatments they perform, IPL is multifunctional and versatile. 

You can overcome any space constraints in your clinic since one IPL workstation is multifunctional and obviates the need for multiple devices.  

IPL technology can treat multiple skin issues for a large variety of patient skin types.
The Aesthetic Bureau's aesthetic device rental program makes IPL device ownership an even more obvious/appealing choice. 
Renting can help you minimise impact to cashflow. You will have less concern about overextending your working capital since there's less expense initially when renting a device. 

The cost of your investment can be deducted as an operating expense. 

You have the option to purchase the equipment when your lease period expires. Alternatively, you are free to update to a newer equipment should the need arise. 

Should your equipment break down in an unlikely scenario, the onus is on us to make the repairs. 
Incorporating Intense Pulsed Light in your practice
With an increased demand in non-invasive procedures for addressing skin concerns and unwanted hair, there has been an influx of IPL technology on the market that is available to anyone. Every second beauty salon seems to be offering IPL therapy. However, not all IPL machines for sale are created equal. While IPL therapy can deliver fantastic results, many unreliable and potentially dangerous IPL machines on the market have given IPL a bad reputation. 
Due to the widespread nature of light technology on the market and lack of enforced regulation in Australia, there have been numerous reports and incidents of IPL devices being used incorrectly and causing permanent damage. Common adverse reactions include hypo- and hyperpigmentation, blistering, scarring, as well as lack of clinical results due to incorrect parameters or poor technique used by the operator. This usually occurs due to inefficiency of the IPL machine or inadequacy of IPL operator training, or both. (add points on how we ensure safety and efficacy of our training and devices)
How Do I Choose the Right IPL Machine?
Before acquiring any aesthetic device, it is important to evaluate from a number of perspectives whether the investment is the right choice.
Additionally, it is important to validate that a strong demand for the treatment exists in the market you are serving. ROI is very important, since a practice must remain profitable in order to continue serving its clients. Generally speaking however, a value-driven multifunctional IPL system is a safe bet for any astute business operator since it can help see the highest return on investment.
Our flagship Dual Light IPL is a dual mode system with added features for ease of use and a high safety profile. It delivers optimised treatment results with less downtime for your clients, increasing profitability.
The DPL Protégé on the other hand is our versatile light-based IPL system delivering multiple therapies in one compact unit. Its design and small footprint offer maximum flexibility and upgradeability for today's fast-paced aesthetic practices.
Both machines combine superior dual handpieces, even energy distribution, notch flash dual filtering, with advanced 3-part cooling and ease of use with inbuilt database and error functionality.
Australian manufactured and TGA recognised for reliability, safety, and efficacy.
Specialists in Light Therapy Australia
The Aesthetic Bureau is ISO 13485:2016 accredited for the design and manufacture of medical devices in Australia. Our medical LED and IPL machines are included in the Australian Therapeautic Goods Administration. 
We are the only TGA included Australian manufacturer for IPL machines – as opposed to other suppliers who are sponsors for overseas companies.
These certifications essentially govern all of The Aesthetic Bureau's processes and ensure that we are compliant with medical regulations, and demonstrates the quality and safety of our devices.
To learn out more about medical grade professional IPL machines for sale in Australia, call us on 1300 858 711 or click on the button below.